Video Streaming with teleprompter
Live streaming green screen product intro.
We have extensive gear
and people ready to go.
We can help by provide complete streaming video services for all of the last minute communications challenges that are happening.
We can provide anything you need from multiple cameras, video switchers, add in zoom guests, bring in power point presentations supplied from laptops to a quick bare bones single camera setup. Audio is provided as appropriate from a dedicated audio mixer rig with out own wireless gear to a basic direct camera feed depending on needs. We've done some pretty complicated setups !
We have the gear and people ready for rapid deployment to handle whatever you need. All proejcts can be customized to suit the requirements and the resources available.

Call 920 544 2230
for details, quote and availability.
Packages
1-3 Cameras operated or locked off, Video Switcher, Zoom Remote guests, Hosts IFB with mix minus, Power Point feeds from laptops, Streaming Encoder as appropriate, dedicated audio gear. Ideal for meetings with multiple people, remote Q&A webcams.
1 Operated camera, 1 lock off camera, Video Switcher, Zoom, Host IFB, Power Point feeds from laptops, dedicated audio gear. Ideal for one or two person presentations to audiences via Zoom, text based Q&A.
1 Camera bare bones setup. Ideal for fast response messaging. One camera, IFB, laptop or LiveU encoder, single wireless mic direct into camera.
Can be booked same day or next day.
Full day rates apply.
The Right Gear For The Job
Streaming Encoder
LiveU: using multiple LTE data modems this standalone device can connect to a dedicated private web page for hosting the video. Latency as low as 1 sec is possible with a reliable connection any where there is a solid signal . Your IT department won't need to provide a hardline connection to the internet.
Laptop Streaming : Wirecast + an SDI or HDMI video input device which can handle overlaying additional graphics, adding remote webcams for call ins, sending to multiple places at once such as dedicated web page, Youtube Private Link Video, Facebook, BlueJeans or other common web destinations for public or private video viewing. Latency can vary but is typically about 10 secs. Remote text Q&A is also possible. There is also the option to record the encoded stream locally for upload to where ever you need it.
Cameras And Sound
Cameras : we have multiple broadcast ENG and cine style cameras ready to go all with SDI outputs for easy cabling. Tripods, battery or AC power supplies.
Audio : We  complete audio including  wireless mics and mixer with a dedicated person to run it. Zoom feeds, IFB feeds, program feeds, PA feeds, got it, done it.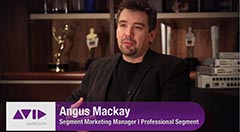 Streaming Live Product Announcement
Production Support
Switcher : we have BMD HD and 4K capable switchers that can handle SDI and HDMI signals from just about anything. We also carry several anything to anything converters to handle laptops or connection to existing in room monitors or projectors.
Monitors & Projectors: if you need a large in room monitors we can provide that.
Teleprompter : several options available including with operator.
Lighting :we have it.