Canon C300 Mk3
Active PL & EF mounts
Full sensor 4K 120fps RAW in camera
2K 1080 120-180fps
Production or ENG shoulder rig config
Canon Extension Back EU-V2 : 2 XLR, streaming ethernet, Lens control port
Zacuto Kameleon EVF 1920X1080 color
512gb express type B cards
Canon C300 mk2
4K 60 FPS, RAW via SDI
2K 120 FPS
BP-A60 batteries
Gold Mount Battery plate for 15mm rods
256gb cFast 2 cards
Canon EVF
15mm custom base plate

Sony FX9, FX6
4Kp60 2Kp120
Mounts PL E
Sony Color EVF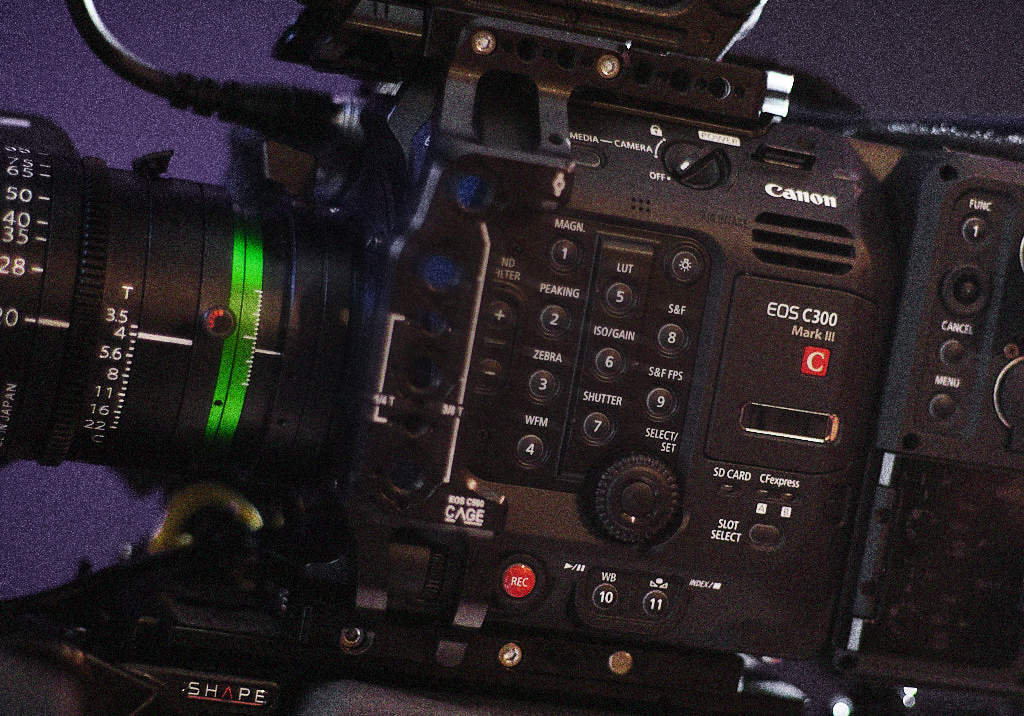 Drones
Mavic Pro 2 Drone 4Kp30 2.7K 90 1080p120
GoPro
Hero 9 cameras
Extensive selection of mounts
External powering
External Cabling
FujiFilm XH2s S35

6Kp30  3:2 Open gate
4Kp120, 1080p240
14+ stops DR !

ProRes HQ, STD, LT
h.265 720/400mbit 10bit
PL mount adapter
Active EF mount Adapter
Cage, 15mm Rods, Handle,
Wireless mount, Shinobi 5″ monitor
TC support
ENG Cameras
On Request FX6 FX9 or Panasonic p2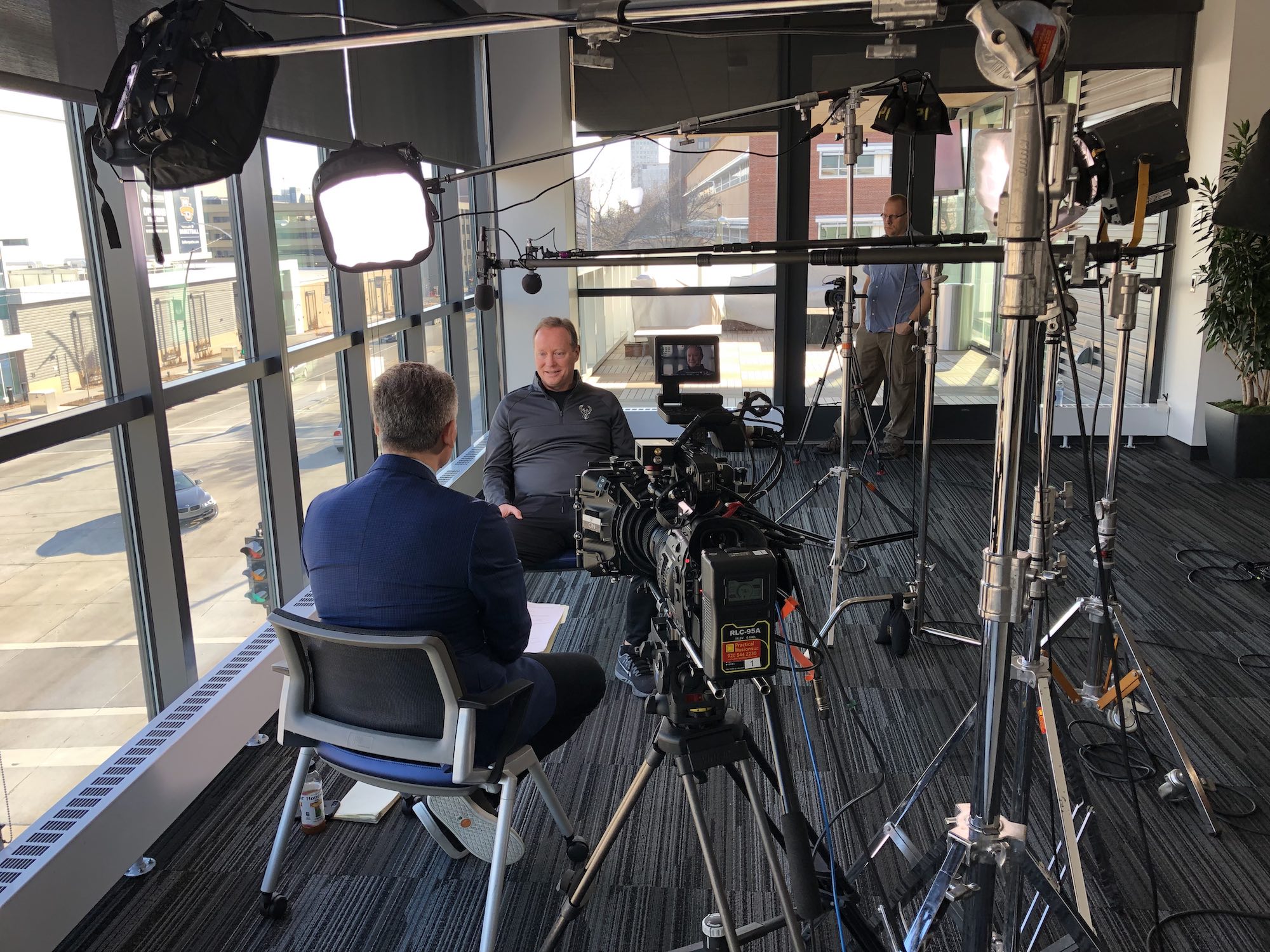 We have a wide selection of new and vintage glass to get just the right look. This list is often changing and being updated.
New
Laowa 24mm Probe Lens in EF mount. Its the lens that gets those amazing up close product shots
1.25X anamoprphic expander works with most lenses and is single ring focusing.
Zooms
Fujinon Cine Servo 20-120 3.5 PL
Tokina Cine 11-20 T2.9 PL
Canon Servo 17-120 2.9 PL

Sigma 18-35 1.8 EF AF
Sigma 50-100 1.8 EF AF
Sigma 120-300 2.8 EF IS AF
Canon 17-55 2.8
Cine gears on all
1.4X Extender
Automatic Extension Tubes
Anamorphic Primes
25mm T2.8 1.33 X mount
50mm T1.9 1.33 X mount
75mm T1.9 1.33 X mount
1.25X Anamophic front expander provides 1.66X open gate 2.39 on these lenses or works on aspherical lenses. Single focus.

Primes Modern & Vintage
Rokinon Cine 8mm
Tokina / Vivitar Series 1 28 1.4
OM 50 1.4 modded to EF 
OM 50 3.5 Macro modded to  EF
Rokinon Cine 50 1.5 EF
Jupiter 9 85 EF
Helios 44-2

SLR Magic MicroPrimes, X mount
12mm 2.8, 18mm 1.8, 25mm 1.5
Tripods
Vinten Vision 8 & 11
Standard CF legs
Baby legs

Follow FocusTilta dual ended 15/19mm

Tilta Nucleus M wireless FF 2 motors, R/S cables
Ronin S Remote Follow Focus
Complete accessories
Sliders & Motion Control
Rhino 42″ stainless steel base
24″ Carbon fiber rod base
4 Axis motor setup with remote focus.
Motion control and timelapse.
Matte Boxes
Tilta 4X5.65 3 stage swing away
Custom 138mm round adapter
Stabilizers
Ronin S
Remote Follow Focus
Custom GoPro Mount
Cine (tape) RangeFinder
Ultrasonic distance indicator
Base Plates
15mm base plates 
ENG Shoulder rigs
Rods
assortment of 1″ thru 18″ 15mm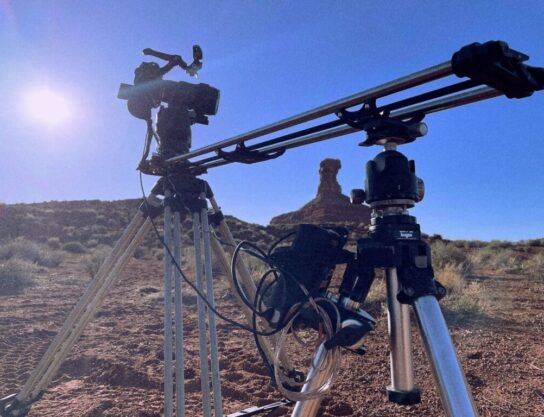 VIDEO MONITORS and SUPPORT
Monitors
Atomos Shinobi HMDI and SDI 5″
Atomos Sumo19 Monitor, Recorder 4 SDI inputs and can line switch. 720 and 1080 formats. 4K RAW recording. Stand mount, AB battery mount. 1TB SSD
SDI & HDMI video transmitter and receiver. Can send to 4 mobile devices at once.
Assorted 24″ computer monitors
42″ LG with stand for client area
HDMI X 4,  SDI converter
Projectors
3 Epson 3800 lumen Ultra short Throw, 1920 X 1080 native res. 10′ wide image at 2-3′ from screen. Front, rear, floor or ceiling mounting. HDMI X 3, VGA. Audio in / out, Video Sync, supports multi projector wide use.

120″ Screens, no frames
Video Support
BlackMagic Design 4K ATEM Studio Switcher
Has chromakeyer with garbage matting for previewing composites and alignment with CGI plates.
Decimators : Any format of HD In and Out SDI and HDMI Converter
Assorted SDI DA's, SDI <>HDMI Converters, VGA->SDI
AES digital audio to analog converter
Assorted BNCs to 100′, HDMI to 40′
Teleprompters
17″ High brightness daylight viewable
Can easily be battery powered with regular gold or V mount
Wireless video feed for fast easy production on dollies or suitable  jib arms 
SDI, HDMI, VGA 
MBP for prompter apps
 2000W AC battery for mobile use in fields, parking lots and other places where running AC power is a pain, no problem. 
Extra custom rigging parts ! Setup for typical cinema cameras like Alexa Mini, Amira, REDs, Canon C series with primes or zooms, remote follow focus, ENG cams, even small mirrorless cameras are not a problem, we've done it before. We have the extra low mode bracket required for many of these cameras.
Mobile Power
120V 2000w Portable Battery Bank
Multiple 120V outlets, USB A and C
Cellphone inductive charging
Fully mobile for field use, can power lights

120V 1000w Full sine wave inverter on truck
Filters

4X5.65 Schiender Dbl Classic
95mm 1+ diopter with 95->82 adapter
Black 1/4
138mm Pola
138mm Black Net 2B, 3A, 3B
138mm SoftCon #1, #2
4X4 Grad, SE 2 stop
4X4 White Net
Drone : Tiffen ND 2, 4, 8, Pola + 2, ,4,8 Stop