Lighting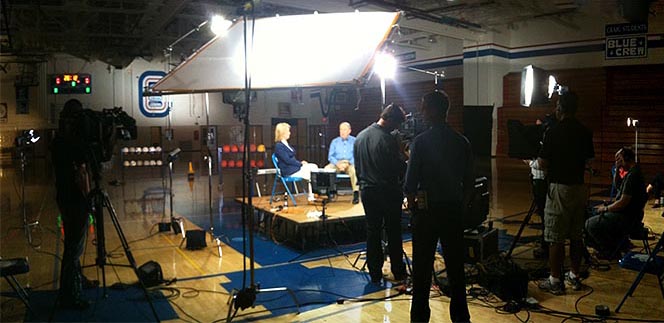 4 Camera Live Remote Using HMI & LED 5.6K lighting, Greta Van Sustrand Show
Large selection of lighting.

HMI's : KoBold PAR 400's, 200's, Joker 400, 575 Fresnels LED • Tungsten • Kino Flo • Chimeras
C stands, Roller, Baby and Combo Stands,
Grip Gear
12X12 Frame with full silk
8X8 Frame with:
Silk, Black Double Net, Solid, Standard green
Digital Chroma Key Green, B&W Bounce
Custom 6X4 Frame with silk
Lots of grip gear extras, apple boxes,
Dana Dolly, 3ft mini Slider
Clips, clamps, plates, VESA mounts

Grip and Electric truck for madison, milwaukee, chicago, IL, manitowoc, wausau, eau clare, rhinelander and appleton. supplying centeral wisconsin with all sorts of lighting including HMI LED TUNGSTEN and Kino for location production. c stands and combo stands along with a selection of beefy baby stands in green bay for packer games coverage even in sturgeon bay. sports in janesville or white water university of wi. Racine and kenosha are also part of our service area rental lighting and grip for live TV broadcasts and remotes. We provide full video production services for live events for corporate presentations and streaming. Aaron Rodgers green screen production and line producer credit this year. packers broadcast remotes live from green bay WI. 53916 or 53204 zips are in our coverage range. reality TV and docs as well as sports or live event sound.